Styx Rivermen
Owner
Crow
Race
Khemri
Debut Season
Season I
Last Season
Season II
Team Motto
The Bell Tolls for You!
Team Colours
Dark Red and Gold
A Legacy of Strength
Edit
One of the most vicious teams to ever play in the GitP Fantasy League, the Styx Rivermen were known for their smothering defense, and ultra-violent strategy on the pitch.  Numerous Rivermen have led the league in physical category stats in each of their two seasons.  The Rivermen were the champions of Division A in the league's first season, defeating the Shadow Dancers in the playoffs, before falling to the Stinky Feets in the semi-final.  The Rivermen returned for season two, once again leading Division A, and defeating Die Valkyrie, Tinwë United, and Hellbug's Heroes enroute to a victory in the Cup Final.  The team was disbanded following the Cup victory, to allow team owner Crow to pursue opportunities with other teams.
The Steel Sarcophagus
Edit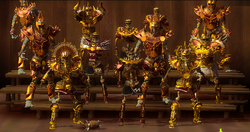 The Rivermen defense was one of the best that the GitP League has ever seen.  In two seasons, the Rivermen defense shut out their opponents no less than 14 times.  They held their opponents to a single touchdown ten times, and only gave up two touchdowns or more in just four of their 28 matches.  Opponents averaged only .68 points per game against the Rivermen, including three matches in which significant portions of the Styx starting lineup was benched to avoid injury prior to the playoffs.  The Rivemen won 17 of 18 games in which they scored two touchdowns or more, with one draw.
Trophy Cabinet
Edit