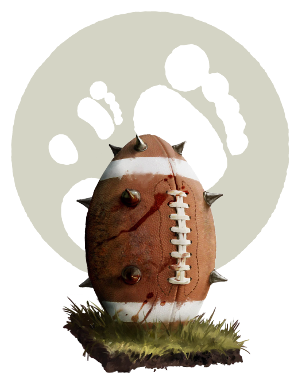 Season II of the GITP Blood Bowl cup was held over the winter of 2012-2013. The league commissioner was Crow.
Division A was won by the Styx Rivermen. Division B was won by The Fancy Lads. The Styx Rivermen also won the cup.
The inaugural Crud! Cup was won by The Johnnys' Quest.
Story of the Season
Edit
Four teams returned from Season I: the Styx Rivermen, the Fancy Lads, Rampage! and the Red Sabres. Seven new owners joined the league, and there were nine new teams.
The Rivermen and the Fancy Lads capitalised on their experience. The Rivermen did not lose a match when playing at full strength, while the Lads set a record for season wins. Hellbug's Heroes provided the season's cinderella story, embarking on a surprise cup run which took them all the way to the final, but they were unable to overcome the Rivermen.
The inaugural Crud! Cup was held between the two best active teams who didn't qualify for the playoffs. The Johnnys' Quest defeated BEERd 2-1 to claim the cup.
Division A:
Division B:
Pre-Season
There was one pre-season friendly exhibition match, between defending cup champions the Red Sabres and the top Season I league team, the Styx Rivermen.
| | | |
| --- | --- | --- |
| Red Sabres | 2 - 1 | Styx Rivermen |

Main season
| - | Bd | DV  | GIYE | HH  |  IG  | MKB |  PP |  R!  | RS  | SR  | TFL | TJQ | TU  |
| --- | --- | --- | --- | --- | --- | --- | --- | --- | --- | --- | --- | --- | --- |
| Bd | - | 1-2 | 1-0 | 0-1 | 2-0 | 2-0 | 1-2 | 1-2 | 0-2 | 1-1 | 0-2 | 2-2 | 3-1 |
| DV | 2-1 | - | 1-2 | 3-0 | 2-0 | 2-0 | 1-2 | 1-2 | 1-0 | 1-2 | 1-3 | 1-3 | 2-2 |
| GIYE | 0-1 | 2-1 | - | 0-2 | 1-2 | 2-0 | 0-2 | 2-0 | 1-0 | 0-2 | 0-3 | 2-2 | 0-2 |
| HH | 1-0 | 0-3 | 2-0 | - | 2-1 | 2-1 | 1-3 | 3-0 | 2-0 | 1-1 | 1-2 | 0-2 | 2-0 |
| IG | 0-2 | 0-2 | 2-1 | 1-2 | - | 1-2 | 2-1 | 3-0 | 0-2 | 1-2 | 0-1 | 2-3 | 1-1 |
| MKB | 0-2 | 0-2 | 0-2 | 1-2 | 2-1 | - | 1-2 | 0-3 | 1-0 | 0-2 | 1-2 | 1-1 | 1-3 |
| PP | 2-1 | 2-1 | 2-0 | 3-1 | 1-2 | 2-1 | - | 1-2 | 1-3 | 2-2 | 1-3 | 2-3 | 1-2 |
| R! | 2-1 | 2-1 | 0-2 | 0-3 | 0-3 | 3-0 | 2-1 | - | 1-1 | 0-1 | 1-1 | 4-1 | 3-1 |
| RS | 2-0 | 0-1 | 0-1 | 2-0 | 2-0 | 0-1 | 3-1 | 1-1 | - | 0-2 | 0-2 | 4-2 | 2-1 |
| SR | 1-1 | 2-1 | 2-0 | 1-1 | 2-1 | 2-0 | 2-2 | 1-0 | 2-0 | - | 1-3 | 3-1 | 2-0 |
| TFL | 2-0 | 3-1 | 3-0 | 2-1 | 1-0 | 2-1 | 3-1 | 1-1 | 2-0 | 3-1 | - | 2-1 | 1-2 |
| TJQ | 2-2 | 3-1 | 2-2 | 2-0 | 3-2 | 1-1 | 3-2 | 1-4 | 2-4 | 1-3 | 1-3 | - | 2-4 |
| TU | 1-3 | 2-2 | 2-0 | 0-2 | 1-1 | 3-1 | 2-1 | 1-3 | 1-2 | 0-2 | 2-1 | 4-2 | - |
Final standings
Division A
| Rank | Team | Value | Wins | Losses | Draws | Points |
| --- | --- | --- | --- | --- | --- | --- |
| 1 | Styx Rivermen | 1760 | 8 | 1 | 3 | 32 |
| 2 | Tinwe United | 1450 | 5 | 5 | 2 | 20 |
| 3 | Patched Plagues | 1460 | 5 | 6 | 1 | 19 |
| 4 | Die Valkyrie | 1440 | 5 | 6 | 1 | 18 |
| 5 | Iron Giants | 1330 (1380) | 4 | 7 | 1 | 15 |
| 6 | Green IS Your Enemy | 1360 | 4 | 7 | 1 | 15 |
| 7 | MAIM KILL BURN | 1260 (1320) | 2 | 9 | 1 | 8 |
Division B
| Rank | Team | Value | Wins | Losses | Draws | Points |
| --- | --- | --- | --- | --- | --- | --- |
| 1 | The Fancy Lads | 1640 | 10 | 1 | 1 | 35 |
| 2 | Red Sabres | 1850 | 6 | 5 | 1 | 22 |
| 3 | Rampage! | 1630 | 6 | 4 | 2 | 22 |
| 4 | Hellbug's Heroes | 1560 | 5 | 6 | 1 | 18 |
| 5 | The Johnnys' Quest | 1740 | 4 | 5 | 3 | 16 |
| 6 | BEERd | 1360 | 4 | 6 | 2 | 14 |
Playoff Results
Crud! Cup
| Team A | | Team B |
| --- | --- | --- |
| BEERd                | 1-2 | The Johnnys' Quest |
Round 1
| Team A | | Team B |
| --- | --- | --- |
| Styx Rivermen | 2-1 | Die Valkyrie |
| Tinwe United | 3-1 | Patched Plagues |
| The Fancy Lads | 0-2 | Hellbug's Heroes |
| Red Sabres | 2-1 | Rampage! |
Semifinals
| Team A | | Team B |
| --- | --- | --- |
| Styx Rivermen | 2-1 | Tinwe United |
| Red Sabres | 0-1 | Hellbug's Heroes |
Final
| Team A | | Team B |
| --- | --- | --- |
| Styx Rivermen | 2-0 | Hellbug's Heroes |