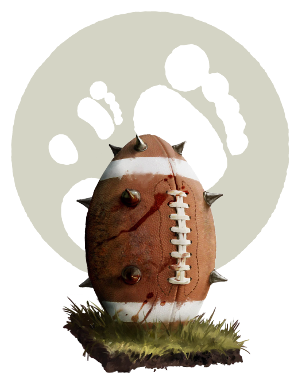 The first season of the GITP Blood Bowl League and
Cup
was run in the spring and summer of 2012. The League Commissioner was
Crow
.
Division A was won by the Styx Rivermen. Division B was won by Rampage! The Red Sabres won the cup.
Story of the Season
Edit
Although pre-season form suggested that the Shadow Dancers were a team to watch, it was Rampage! and the Shambling Horde that set the early standard, each scoring a big win in the opening week, led by their great running players Sessrumnir and GGGrrrrrr. Meanwhile, the Game of the Week favourites, the Red Sabres, were were hammered by The Fancy Lads, establishing what would become a league tradition. The Shambling Horde faded after Week 3, but Rampage! continued, winning every match for the first half of the season. After a rocky start, the Styx Rivermen signed thro-ra Tom Gravy and began winning matches, equalling the winning streak of Rampage! during the mid-season and remaining unbeaten until the playoffs.
After the All-Star match at the season mid-point, attention turned to playoff qualification, and the Cretaceous Crushers were the first team to secure their place, soon joined by Rampage!, the Styx Rivermen, the Stinky Feets, The Trees and The Fancy Lads. The Red Sabres, who by Week 4 had been considered the worst team in the league, strung together five consecutive wins to qualify in third place from Division B. Despite an heroic effort from goblin team Da Gabooms, they fell short, and some upsets in the last two weeks of league play saw the Shadow Dancers qualify on a wild card.
In the first round of playoffs there was more drama, as the Red Sabres overcame The Fancy Lads, while The Trees squeaked past Rampage! deep in sudden-death overtime. In the semifinals, both matches ended an unpredictable 2-1 as the Stinky Feets dodged their way past the Rivermen, and the Red Sabres demolished The Trees in a particularly bloody match. The Sabres went on to defeat the Feets in the cup final to conclude an unlikely season.
Division A:
Division B:
Pre-Season
The pre-season records have been lost. There were at least two pre-season friendlies, involving the Shadow Dancers, the Cretaceous Crushers, and non-league team The Bloody Bite.
Main Season
| | | | | | | | | | | | | |
| --- | --- | --- | --- | --- | --- | --- | --- | --- | --- | --- | --- | --- |
| | CC  | DG | HH  | KSR |  R!  | RS  | SD  | SH  | SF  | SR  | TFL |  TT  |
| CC | - | 3-0 | 1-1 | 1-1 | 1-3 | 2-1 | 2-1 | 2-1 | 0-3 | 1-0 | 2-1 | 2-1 |
| DG | 0-3 | - | 3-0 | 1-1 | 0-1 | 0-2 | 1-1 | 2-0 | 1-3 | 0-3 | 0-2 | 0-2 |
| HH | 1-1 | 0-3 | - | 0-1 | 1-2 | 0-1 | 0-0 | 1-0 | 1-3 | 0-2 | 1-1 | 1-3 |
| KSR | 1-1 | 1-1 | 1-0 | - | 1-2 | 0-3 | 1-1 | 2-0 | 1-3 | 1-1 | 1-2 | 2-3 |
| R! | 3-1 | 1-0 | 2-1 | 2-1 | - | 0-2 | 1-1 | 2-0 | 3-1 | 0-1 | 1-0 | 2-2 |
| RS | 1-2 | 2-0 | 1-0 | 3-0 | 2-0 | - | 2-0 | 0-3 | 1-1 | 0-2 | 0-1 | 3-1 |
| SD | 1-2 | 1-1 | 0-0 | 1-1 | 1-1 | 0-2 | - | 3-0 | 1-0 | 0-2 | 1-1 | 1-3 |
| SH | 1-2 | 0-2 | 0-1 | 0-2 | 0-2 | 3-0 | 0-3 | - | 1-2 | 0-2 | 1-2 | 2-1 |
| SF | 3-0 | 3-1 | 3-1 | 3-1 | 1-3 | 1-1 | 0-1 | 2-1 | - | 2-1 | 1-0 | 1-2 |
| SR | 0-1 | 3-0 | 2-0 | 1-1 | 1-0 | 2-0 | 2-0 | 2-0 | 1-2 | - | 1-0 | 2-1 |
| TFL | 1-2 | 2-0 | 1-1 | 2-1 | 0-1 | 1-0 | 1-1 | 2-1 | 0-1 | 0-1 | - | 1-3 |
| TT | 1-2 | 2-0 | 3-1 | 3-2 | 2-2 | 1-3 | 3-1 | 1-2 | 2-1 | 1-2 | 3-1 | - |
Playoffs
Round 1
| Team A | | Team B |
| --- | --- | --- |
| Shadow Dancers | 0-2 | Styx Rivermen        |
| The Trees | 3-2 | Rampage! |
| Cretaceous Crushers | 2-3 | Stinky Feets |
| The Fancy Lads | 0-3 | Red Sabres |
Semifinals
| Team A | | Team B |
| --- | --- | --- |
| Stinky Feets | 2-1 | Styx Rivermen |
| The Trees | 1-2 | Red Sabres |
Final
| Team A | | Team B |
| --- | --- | --- |
| Red Sabres | 3-0 | Stinky Feets |